Fact Checked
Illegal substance abuse is a worldwide problem which affects millions of individuals regardless of their age or gender. Hence, drug overdose is also a common issue among healthcare professionals and law enforcement agencies. Despite this common knowledge, it is still more enlightening to read actual numbers and facts in order for the magnitude of the problem to be clearly seen. Here are some of the statistics that can paint a clear picture of the severity of these problems and why finding first aid trainers is important.
How common is drug  or substance abuse?
According to the data that was gathered through the Canadian Alcohol and Drug Use Monitoring Survey in 2011, general drug use or abuse has decreased in 2011 in comparison to the data that was gathered in 2010. Cannabis usage of Canadians who are 15 years and up have decreased from 10.7% to 9.1%. Usage of psychoactive drugs or substances of Canadians who belong in the same age group decreased from 26.0% to 22.9%. Alcohol consumption also decreased for Canadian youth. It dropped to 70.8% from 82.9%. However, the rate of drug use in the country remain relatively high. The data also revealed that one out of five Canadian youth who are between 15 to 24 years of age use at least one type of illicit drugs. Drug consumption rates are also higher for the youth as compared to Canadians who are 24 years old and above.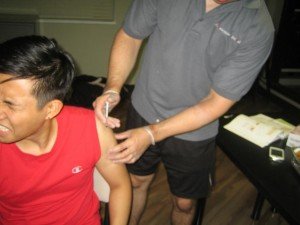 How deadly is substance abuse?
According to the Health Officer's Council of British Columbia, more than 47, 000 people die each year due to substance abuse or overdose. The Department of Health of the Government of Saskatchewan also stated that Canadian youth who abuse drugs are at a higher risk for death. Excessive alcohol consumption was also responsible for taking the lives of 12.3% of pedestrians who died due to accidents.
Why should you find first aid trainers?
These studies show that a large portion of the population is at risk for drug overdose and that the fatality rate for people who abuse drugs are much higher than those who are clean. This is why it is necessary to find first aid trainers that are well-equipped to teach individuals with no medical background how to deal with different types of medical crises that are caused by excessive drug or substance consumption. This is one of the best ways to prevent the perilous effects.
[youtube url="http://www.youtube.com/watch?v=H0sMKdI4RcY" width="400″ height="240″]